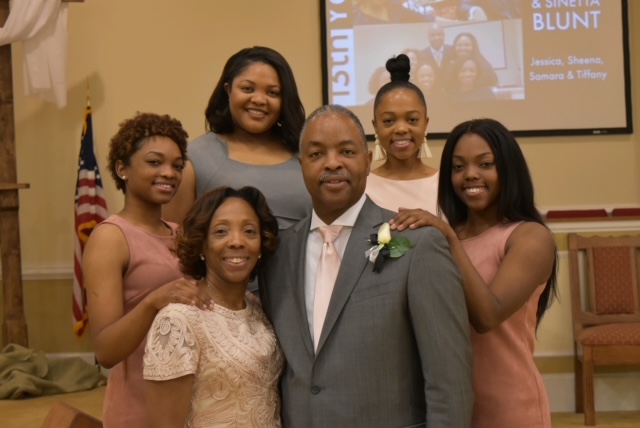 George W. Blunt is a born again Christian, who has been anointed and appointed by God to preach and teach the Gospel of Jesus Christ.
It is evident in his diligence, perseverance, and teaching that he lives the life that our Lord requires, from his character and the life he models. Reverend Blunt is married to Sinetta A. Blunt. They are the blessed parents of four beautiful daughters, Jessica, Sheena, Tiffany, and Samara.
In February 1997, He accepted his call to the Gospel ministry and received his license to preach by Reverend D. Grady Scott, Pastor of the Grace Temple Missionary Baptist Church of Tucson, Az. In July 1999, he was ordained by Pastor D. Grady Scott. From August 1999 to August 2003, he served as an associate minister of the Tabernacle Missionary Baptist Church of D"Iberville, MS under the leadership of Rev. Dr. Kenneth M. Davis. He is currently a member of the ST. James Missionary Baptist Church of Valdosta, GA. under the leadership of Rev. Thomas J. Haynes.
A native of Terry, MS, Rev. Blunt attended the Byram Public School System. He received an Associated of Applied Science Degree (Telecommunications) at MS Gulf Coast Community College.
He began his Biblical Education at William Carey College Gulf Coast; he received a Bachelor of Divinity from International Theological Seminary of Bradenton, FL., a Maters of Arts in Theological Studies from Faith Evangelical Seminary of Tacoma, WA, and a Master of Divinity from Slidell Baptist Seminary of Slidell, LA.
In December 2004, Rev. Blunt was called to become the Pastor of the New Jerusalem Missionary Baptist Church of Valdosta, GA. He is a man of vision; through his leadership it has been a period of renewed spiritual, numerical, and financial growth. The membership has grown and ministry has been expanded. In 2007 The Lord blessed us to purchase the property next door to be used for additional parking and future growth. In 2008, as God continue to bless our congregation to grow, Pastor Blunt led the Church in adding a 8am Worship service. In 2011, The Lord blessed Pastor Blunt to led us in the building of a new Sanctuary, on
October 7, 2012, Pastor Blunt and the members of New Jerusalem Missionary Baptist Church marched from the existing sanctuary to their awe-inspiring new edifice next door. Many have been blessed, and led to Christ under his leadership. He is a man on a mission to help people to come to know Christ. Pastor Blunt motto remains to be "Determined to Make an Impact for the Kingdom"